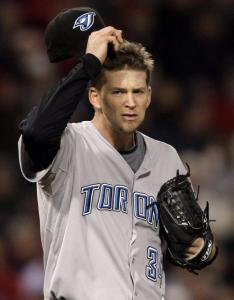 Well, of course it happened with CC, now it had to happen with AJ Burnett, just 5 minutes after i said in a previous post that the Yankees should NOT sign AJ Burnett to a 5 year deal... they sign him.
Here's the article,
Jerry Crasnick reports
.
The Good:
-AJ Burnett is a quality pitcher coming off of a quality season, he has attitude, and that's what Yankee fans love.
-AJ Burnett has had success in the AL East.
The Bad:
-AJ Burnett has not won more than 12 games once in his career... and that was last year.
-AJ Burnett is very injury prone, and is friends with Carl Pavano, just a bad omen.
The Ugly:
-AJ is signed for 5 years, Carl Pavano was signed for 4, imagine having Pavano for another year... i know, i don't want to think about it either.
The Yankees rotation looks good however:
CC Sabathia
Chien Ming Wang
AJ Burnett
Joba Chamberlain
????
Maybe that 5th spot goes to Andy Pettite, maybe it goes to someone like Ben Sheets or Derek Lowe... or MAYBE they sign both Ben Sheets and Andy Pettite, and move Joba Chamberlain to the bullpen to be the set-up guy for Mariano Rivera.
Personally i see Joba as a starter, and i want him there, but the Yankees need a true set-up guy. Jose Veras and Brian Bruney are good later inning guys, but not set-up material.