Friday, October 31, 2008
Not much for me to say...
Carlos Delgado's option gets picked up...
Tim Wakefields option gets picked up...
HAPPY HALLOWEEN!!!
Posted by

Alex H
at 6:44 PM
No comments:

Thursday, October 30, 2008
In recent weeks we've heard alot of hype around
Junichi Tazawa
, whether or not he would be drafted by a Japanese team and be eligible to sign with a team in the MLB.
Well, today Tazawa got his wish, as Japan's 12 proffessional teams passed on him. I was curious to see what this guy could do, because when the Yankees got
Kei Igawa
, i'd actually never seen him pitch, well for any of you who are just as curious as I am about Tazawa... here you go:
http://www.youtube.com/watch?v=sxRKY_Xg5tQ
an article i found on ESPN.com has Tazawa throwing 97 MPH, where if you watch the video i posted, you can clearly see his fastball topped out at 148 Kilomters per hour, which is 92 MPH
(http://sports.espn.go.com/mlb/news/story?id=3672409&campaign=rss&source=MLBHeadlines)
watching the video of Tazawa, i noticed his poor location of his breaking ball at times, having it hang often, ofcourse the hitters in Japan are not as talented as the ones in the MLB, but a hanging breaking ball is a hanging breaking ball. You should have also seen some very generous calls by the homeplate umpire, those pitches would not be called strikes in the Major leagues.
Don't get me wrong, Tazawa should be a solid pitcher in the majors some day, but for those of you who think he is the answer to all of your bullpen problems in 09, you are very wrong, Tazawa is only 22, and needs more time to develop.
ESPN sees the suitors for Tazawa as:
The Angels, Royals, Blue Jays, A's, Rays, Braves, Mets, Reds, and Giants
MLB trade rumors
(www.mlbtraderumors.com)
reports that other teams such as:
The Red Sox, Dodgers, Tigers, Pirates, Cubs and Mariners
have scouted Tazawa
Posted by

Alex H
at 5:29 PM
No comments:

Wednesday, October 29, 2008
Posted by

Ace
at 10:00 PM
No comments:

Tuesday, October 28, 2008
Here's something i know all yankee fans who watch the games will enjoy...



Oh Michael Kay.. you're one crazy kid
Posted by

Alex H
at 8:43 PM
1 comment:

Monday, October 27, 2008
The closer, the most coveted role by any relief pitcher in baseball. Often times the most dominant pitcher on the team. To be an effective closer coming into the game the opposing team should not expect to get on base let alone score, you should strike fear into the opposing fans. Two of the best examples of that this year are K-rod and Mariano featuring an era of 2.24 and 1.40. But just how important of a role does the closer play on a team?
-
In reality a good closer on a decent team will only pitch around 60 or 70 innings a year as opposed to the anticipated 150 to 200 of a starter. Yet some closers earn upwards of 10 million dollars with Mariano Rivera being the highest paid closer at roughly 15 million dollars a year.
-
This upcoming offseason K-rod and Brian Fuentes will be looking to cash in, with K-rod apparently seeking a 4/15 or greater deal. Again I have to ask the question is it worth it? Let's take for example the Mets, who have been rumored to be in either the K-rod or Fuentes sweepstakes. Coming into this offseason the Mets are in need of a starting pitcher, a left fielder and a second baseman, as well as any bullpen help they can get (it really can't get any worse).
-
Is it really worth it to spend all that money on a closer who will pitch 70 innings at most, as opposed to a starting position player who will play every game or a starting pitcher who will pitch more than twice the innings? It's also not like one pitcher will be able to salvage the bullpen on its own. Can they really argue they would not be better off signing a multitude of decent relievers and trying to establish some bullpen depth?
-
Now don't get me wrong, I'm not going to deny what all-star closers such as Brad Lidge, Trevor Hoffman, or Mariano Rivera have done for their teams, but in reality a closer in today's market is more of a luxury than anything.
Posted by

Ace
at 8:34 AM
No comments:

Sunday, October 26, 2008
What would you rather build your team around? a Cy Young or an MVP?

This question was brought to my attention durring the middle of the season, when all the buzz was surrounding Cincinnati Reds pitcher Edinson Volquez and Rangers slugger Josh Hamilton (both players were traded for eachother in the previous offseason). Ofcourse both players cooled down and both fell out of the race for their respective awards toward the later part of the season, but the question still remains: Cy Young or MVP?
-
Now, there are 162 games played every season, and if your 'Ace' was to start once every five days, he would only pitch in 32 of those games. An MVP however, has the oppurtinity to play in all 162 games, and help you win everyday.
-
While Cy youngs are hard to come by, MVPs can appear out of no where. Just take a look at Boston's Dustin Pedroia, most people outside of the New England area had no idea who this kid was, now he is strongly being considered for the MVP.
-
For the past decade, the Cy young has come from the ace of a teams starting rotation i.e Roger Clemens, Johan Santana, Randy Johnson and Pedro Martinez (Ofcourse now Cliff Lee is trying to become the first pitcher in 10 years to come from no where and claim the Cy young award).
-
When you take a look at past MVP award winners such as Jimmy Rollins, Justin Morneau, Miguel Tejada and Ichiro Suzuki, you wouldnt normally picture them as candidates for that award, yet they won it (Ichiro doing it in his rookie season).
-
Now, Cy Young or MVP?

Verdict: If i was to build a team today, personally i would build it around an MVP, a guy who always comes through in the clutch and can carry teams through rough stretches. I.E Alex Rodriguez of 2007 (in the month of April) and Ryan Howard of 08 (in the month of September). Now, i'm not saying Cy Young's arent important, because this was a closer race than i may have made it seem, but i would see my chances of winning the world series far greater with an MVP, rather than a Cy Young.
Posted by

Alex H
at 4:55 PM
2 comments:

Saturday, October 25, 2008
If you haven't already watched the video, enjoy the patheticness.
http://www.youtube.com/watch?v=AAgj5eKm8kg
Mr. Rodriguez... you've stooped to a new low...
(saw the video first on 3:10 to Joba's blog)
Posted by

Alex H
at 2:36 PM
No comments:

Friday, October 24, 2008
I recently read an article posted on Tim Dierkes' MLB trade rumors website (
http://www.mlbtraderumors.com/
) saying that the Yankees may have interest in Mike Cameron (according to George King of the New York Post).
-
First of all, i thought the Yankees were looking to get younger, and Cameron, who turns 36 in January, would be a step in the other direction. Now, George King says that Cameron would be a last resort, but a last resort if what happens? Both Brett Gardner and Melky Cabrera suffered serious injuries durring this offseason? i don't think that is likely. Personally, i would prefer a young very athletic, scrappy hitter to a declining, poor avg. hitter who may 'wow' you with his occasional HR and his outstanding defense, but there isn't much more of an upside there (he also struck out 142 times in 444 at bats durring the 08 season).
-
Cameron has a 10 million dollar club option with the Brewers, but it seems unlikely that that will be picked up. If the Yankees are going to go for both Tiexera and CC, aswell as sign Lowe/Burnett, Cameron can not even be considered. Centerfield is the least of the Yankees problems right now, their main focus should be starting pitching and someone to fill the first base hole. (if you disagree with this, feel free to leave a comment below)
Posted by

Alex H
at 12:23 PM
No comments:

Thursday, October 23, 2008
In baseball we repeatedly hear about the need of a veteran presence on a team. Often players who have stopped producing are given contracts based on the need for a veteran and leadership presence in the club house.
-
This upcoming offseason the biggest example of this will most likely be Jason Varitek sporting a whopping OBP of .313, yet he is looking for a multi year deal based on his good defense and great game calling. You know who else is old, can't hit for anything, and can call a great game? Try the rest of the catcher free agency market. So why in the world would Boston even think about wasting all that money to bring in an old washed up catcher? Simply because of the veteran and leadership presence he brings?
-
The diamondbacks traded for tony clark at the trade deadline to bring in a veteran and leadership prsence, howd that work out? The Rays have clearly shown the need for veterans in the clubhouse to win right? With a total of two starting players over the age of 30 (cliff floyd and carlos pena).
-
This isn't high school or college ball, this is Major League Baseball. These players are paid millions of dollars to do their job to the best of their ability regardless of if there is a so called veteran player in the club house. If the younger players really need someone older to speak to they should go to the coaches, the people who's job it is to actually be that veteran presence.
Posted by

Ace
at 11:19 PM
1 comment:

Wednesday, October 22, 2008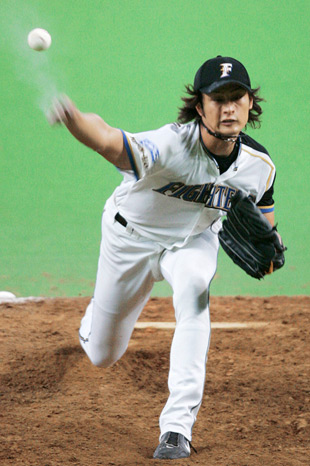 Yu Darvish, born half Iranian and half japanese, is only 22 years old and has been very impressive in his time with the
Hokkaido Nippon Ham Fighters.
Look for more than just the Yankees and Red Sox to be in the bidding for this young kid, he really has nasty stuff. He mixes his pitches very well with a great changeup, nasty breaking ball, and a fastball reportedly thrown in the mid 90s.
here's the link to a video of Yu Darvish absolutely dominating... enjoy :)
http://www.youtube.com/watch?v=gqul1GyK7-g
Yes, i know... he looks very good... and do i see a hint of Mariano Rivera in his delivery? Just don't get too excited, he probably won't be posted until after the 09 season.

Posted by

Alex H
at 10:38 PM
No comments:

Tuesday, October 21, 2008
The Padres are clearly willing to trade Peavy after his very open disliking with their front office. So the question that comes up, where will Peavy go?
Before i get into possible trade candidates, let's take a look at some very interesting statistics...
ERA at home in 2008: 1.75
ERA away in 2008: 4.28
ERA at home in 2006: 3.75
ERA away in 2006: 4.57
Peavy is clearly a fly ball pitcher, and relies heavily on his very large PETCO stadium, take him away from there, and you may find a very mediocre front end starter.
he also has said he wouldnt want to go to the AL, smart decision for him... add a DH, subtract the pitcher hitting and add the inexperience of knowing the hitters in the league, you will surely see an un peavy like ERA.
now to possible suitors (in no particular order):
1. Yankees- honestly, i don't want him, those split stats scare me, and i don't feel like having another Randy Johnson situation. However, the yankees do need pitchers, and Peavy would no doubt aid the ailing Yankee starting rotation.
2. Red Sox- normally a contender in every deal involving the Yankees, don't be suprised if they throw an offer out if the Yanks do infact decide to go for him.
3. Braves- Their rotation needs some work, the addition of Peavy would really round it out nicely with campillo and their young guy Jair Jurjens; however, a deal may have to include their shorstop Escobar. The braves also definently have the top pitching prospects Kevin Towers have stated they are seeking.This is actually where i think he will end up.
4.Rangers- The Rangers have some nice young talent, and boy do the Rangers need pitching, a deal would however require one of texas's prize catchers in Ramirez and Teagarden (Personally i don't see Peavy waiving his no trade clause to pitch in Texas, but stranger things have happened).
5.Cubs- Really just a question as to whether Ryan Dempster resigns, if he doesnt, look for the Cubs to make an offer. If Peavy does sign with the cubs, a rotation of, Peavy, Zambrano, Lilly, Harden and Jason Marquis (scary).
6.Mets- if Oliver Perez leaves, and Maine's injury removes him from the rotation, the Mets ofcourse will make an offer, however Jon Niese or Daniel Murphy would be targeted by the Padres.
Posted by

Alex H
at 2:11 PM
No comments:

Monday, October 20, 2008


go to 1:00... greatest moment of Kei Igawa's life... failing to fly a little toy hellicopter.

well... he isn't good at anything else either...
Posted by

Alex H
at 10:38 PM
No comments:

Alex's Predictions on Free Agent destinations
Manny Ramirez (37):
Mets
. he's always wanted to play in New York, so i can deffinately see him signing with the Mets, who desperately need a corner outfielder. However if Ramirez decides to sign with another team, the Mets will likely look to sign Bobby Abreu.
Bobby Abreu (35):
Dodgers
. If Manny Ramirez signs elsewhere, look for the dodgers to make a serious running in the signing of Bobby Abreu. Though the Yankees love what Abreu can do, they are looking to get younger, and are likely to only offer Abreu arbitration.
Mark Tiexera (29):
Angels
. He looked like he enjoyed his time there, and of the few teams i see giving Tiexera the 10 year deal he's wanted, the Angels seem like the best fit for him.
CC Sabathia (28):
Yankees
. CC already has told reporters that he would like to stay in the National league, however the money the yankees will give out, (maybe the same type of deal that Johan Santana got from the Mets) is just impossible to turn down.
A.J Burnett (32):
Orioles
. This isn't a suprise here, the Orioles saw the success that the Rays had with the addition of veterans Troy Percival and Cliff Floyd, watch AJ Burnett atop the rotation with Guthrie, and help lead over the young orioles team.
Derek Lowe (36):
Yankees
. If the yankees don't end up resigning both Andy Pettite and Mike Mussina, look for Derek Lowe to be joining the same team he beat in game 7 of the 2004 ALCS.
Rafael Furcal (31):
Royals
. Possibly a very nice pickup for the Royals, adding a veteran. Put Furcal at short, and move Aviles to 2nd base, don't be suprised if you see the Royals atop the AL central next year.
Oliver Perez (27):
Mets
. He has an option for 13 million with a 1.95 million buyout... seems like alot of money for someone who was fairly inconsistent last year... but the Mets don't want his talent to go against them.
Francisco Rodriguez (27):
Mets
. They need a closer, and Francisco Rodriguez seems to be the best option, if the Mets don't land K-Rod... look for them to be going hard for Brian Fuentes.
Solomon Torres (37):
Brewers
. No brainer here, he has an option for close to 4 million with a 300k buyout. Torres had been good for the Brewers last year, although his shaky september made people wonder that he'd broken down.
Damaso Marte (34):
Yankees
. This also sounds like a no brainer for me, 6million dollar option with a 250k buyout, honestly... i know that he wasn't great for them last year, but really... this guy is the best lefty specialist available out there, and if the Yankees want to compete next year, this guy would be very helpfull for late inning situations.
Mike Mussina (40):
Retirement
. Mike Mussina has said if he would return, it would be for 3 years, going for 300 wins, but i just don't see him commiting to it, and he has said he loves being with his family.
Jason Giambi (38):
Athletics
. not that the A's need a first baseman... however perhaps using Giambi as a DH, and moving Jack Cust around could boost their offense. Also Giambi's former teamate Eric Chavez would love to see Giambi back in an A's uniform.
Jason Varitek (37):
Red Sox
. Jason Varitek belongs with the Red Sox, though his offense falls below the league average for catchers, his defense and relations with pitchers is among the best in baseball.
Ben Sheets (30):
Dodgers
. with the inconsistency of Brad Penny, and the loss of Derek Lowe in this offseason, don't be suprised if you see Ben Sheets signing with Torre's Dodgers. He won't get paid as much as he would before his injury problems towards the end of the 08' season, but he may be a great pickup for some team.
Orlando Hudson (31):
Mets
. This guy would be huge for the mets, if they could sign him... luis castillo is really not the answer at this point.
Ken Griffey Jr. (39):
Marlins
. the Marlins in the last offseason signed Luis Gonzalez to add a veteran presence to a primarily young team, don't be shocked if Ken Griffey is playing in right field for the Marlins next year.
Snake's predictions on Free Agent destinations
Mark Teixeira, 29
: The playoff series against the Bo sox will leave a sour taste in Mark's mouth, leading him to accept an enormous amount of cash from the Yankees, and an opportunity to exact revenge on the sox.
Prediction: YankeesC.C. Sabathia, 28
: C.C. wants to stay in the National League, and he will do just that. Sabathia will accept an impending offer from the Brewers and help the Brew Crew make the playoffs in 09.
Prediction: BrewersA.J. Burnett, 32:
The Orioles will overpay Burnett this off season and continue their run of futility. Until the O's get some quality young position players they will continue to be towards the basement of the A.L. East.
Prediction: OriolesDerek Lowe, 36:
The Yankees are going to continue their trend of overpaying for pitchers who are past their prime.
Prediction: YankeesOliver Perez, 27:
Olly will remain with the Mets. There is no way the Mets will risk letting Oliver go to another club, thus losing another bright young pitching talent--See Scott Kazmir
Prediction: MetsMike Mussina, 40:
Although I would love to see Mike back in pinstripes for the unveiling of the new stadium; I have a feeling Mike will not want to pitch another 3 years to reach 300 wins.
Prediction: Retirement
Ace's Predictions on Free Agent destinations
Manny Ramirez:
Dodgers
. With his absolutely ridiculous run in LA I can't see the Dodgers not making at least a serious attempt at re-sigining Man Ram
Mark Tixera:
Angels
. He enjoyed his time in Anaheim and so did the fans. I can't see the angles letting him get away with there payroll flexibilty this upcoming offseason and there need of high OBP hitters.
CC Sabathia:
Brewers
. He has stated that he has enjoyed his time with the brewers and perfers to play on the west coast. Whether his pitching on three days rest multiple times towards the end of the season will have an effect on his price this upcoming offseason remains to be seen.
A.J Burnett:
Yankees
. With the Yankees going all out this offseason and AJ brunette making it clear he wants to get the most money possible I will be shocked if he does not sign with the yankees.
Derek Lowe:
Yankees
. Same as A.J. Burnett
Oliver Perez:
Mets
. With a weak free agency market for mid tier pitching, Maines recent injury, and pedros leaving along with a lack of starter depth in the minor leagues I will be very suprised to see oli in a different uniform next year even with the inconcistinces he has shown this year
Francisco Rodriguez:
undecided
. I believe this to be the biggest toss up of the offseason. Krod is looking for a record deal for a closer which very few teams including the mets seem willing to pony up. Regardless of where he goes it will most likely not be the 4/60 deal he is looking for
Orlando Hudson:
Mets
. With the mets unhappy with Luis Castillo at 2nd and Orlando Hudson's stated desire to play for the mets there is a very good chance he will be in mets uniform next year.
Ken Griffey Jr:
Mariners
. Give the fans some reason to come and see a game with little chance of the mariners posting an even remotely decent record next year
Posted by

Alex H
at 11:49 AM
No comments:

Sunday, October 19, 2008
THE RAYS
when a team is going to the world series and has a crowd of 30% Red Sox fans... there is a real problem (and it is sad).
but seriously... congratulations to the Tampa Bay Rays for beating the Boston Red Sox and winning the American league title.
Posted by

Alex H
at 11:47 PM
No comments:

Coast to Coast baseball is a blog made by myself(Alex) and my friends Mike (Ace) and Ben(Snake).... basically we're going to talk about some important shit going on around the leauge... Like:

1.trades
2.other team transactions
3.Free Agent signings
4.what players are up to off the field
5.Predictions on FA destinations, what the standings will look like by the end of the 09 season....

and tons of other stuff having to do with baseball...

Hope you enjoy reading the Coast to Coast baseball blog :D
Posted by

Alex H
at 10:34 PM
No comments: