Well, who doesn't love to read projections for their favorite players before the season starts? I know i do... so here are my projections for each player on the Yankees opening day roster:
Starting Lineup-
1-
Johnny Damon
- 313 AVG. 11 HR. 65 RBI. 115 R. 375 OBP.
he's getting older, but Johnny showed us in 07 he can still get it done... even after a slow start he hit over 300. Don't be suprised if you see these fantastic numbers out of your lead off guy.
2-
Derek Jeter
- 305 AVG. 18 HR. 85 RBI. 105 R. 350 OBP.
Jeter's days of a 320 AVG. may be over, but he is surely capable of hitting the 300 mark. I also see Jeter as hitting more HRs as we're accustomed to seeing out of him.
3-
Mark Teixeira
- 283 AVG. 33 HR. 115 RBI. 100 R. 380 OBP.
I see Mark's first season as a Yankee very solid, he could hit anywhere from 25-35 HR and will drive in over 100 RBI.
4-
Alex Rodriguez
- 295 AVG. 45 HR. 140 RBI. 100 R. 400 OBP.
I've noticed Alex is an 'every other year' type player... take a look at his past seasons with the Yankees. Maybe another AL MVP is in store for him?
5-
Hideki Matsui
-280 AVG. 19 HR. 94 RBI. 90 R. 340 OBP.
I like Hideki Matsui, but he's getting older... i think my predictions may be a little generous for someone his age with the bad knee problem. However; if there is one hitter who can pull off numbers like that in their condition... it would be him.
6-
Xavier Nady
- 275 AVG. 23 HR. 89 RBI. 80 R. 330 OBP.
Pending he is still a Yankee on this day... i don't see him hitting 330. like he did with the Pirates last year... but he will be a very solid guy in the number 6-7 slot for the Yankees down the stretch.
7-
Jorge Posada
- 278 AVG. 17 HR. 80 RBI. 70 R. 360 OBP.
Jorge is getting older, his 330+ AVG in 07 was no fluke, though it is unlikely he will be as succesfull... he's 36 and is coming off an injury plagued season.
8-
Robinson Cano
- 325 AVG. 20 HR. 105 RBI. 95 R. 350 OBP.
Yes... you read those numbers right, just two years ago Robinson Cano had a 300 AVG with 19 HR and 97 RBIs. Cano did not play to his potential at all in 08, i think the recent work he's done in the dominican with Kevin Long will get him back on track to his old ways.
9-
Brett Gardner
- 265 AVG. 5 HR. 35 RBI. 60 R. 340 OBP.
If the Yankees decide to go with the Brett Gardner/Melky Cabrera CF duo, i see Brett seeing more playing time. An average anywhere from 250-280 wouldn't be bad, maybe he'll swipe 20-30 bags as well.
9-
Melky Cabrera
- 273 AVG. 3 HR. 25 RBI. 30 R. 320 OBP.
Melky's time as the Yankees starting CF may have come to an end with his abismal 2008 season. He will still see playing time with Brett Gardner in the number 9 slot, he'll hit anywhere from 240-280 and have a few dingers.
Starting Rotation-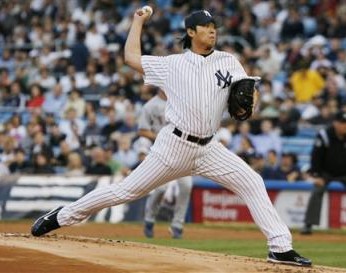 1-
CC Sabathia
- 235 IP. 220 hits. 3.25 ERA. 18 wins. 225 Ks.
CC may take some time adjusting to his new team, but after he settles in... i see a very solid season out of him. Maybe he can get up to 20 wins... but i don't want to push it. 2009 AL CY?
2-
Chien Ming Wang
- 198 IP. 200 hits. 3.80 ERA. 17 wins. 115 Ks.
Personally, i see Wang as the Yankees number 2 guy... he's been their ace for the last 3 years, i don't see how they could deny him this role after all he's done. Wang will have a solid season as long as he stays healthy, maybe he will reach the 200 inning plateau, but i see him at 198.
3-
AJ Burnett
- 214 IP. 185 hits. 3.50 ERA. 17 wins. 235 Ks.
Please stay healthy... his stuff is filthy, we as Yankee fans got a nice view of his repatoir in 08.
4-
Joba Chamberlain
- 150 IP. 135 hits. 3.00 ERA. 11 wins. 170 Ks.
He may spend some time in the bullpen throughout the season, but if he stays healthy, i see him having a very respectfull year as the Yankees number 4 starter.
5-
Phil Hughes
- 150 IP. 155 hits. 3.95 ERA. 9 wins. 140 Ks.
Phil has shown great improvement since the beginning of the 08 season, gaining the velocity he's lost on his fastball and even adding a cutter. His success in the AFL leads me to believe he can have a nice year.
5-
Phil Coke
- 35 IP. 38 hits. 4.15 ERA. 3 wins. 20 Ks (
As a Starter
)
Will start on days where the Yankees want to give Hughes and or Joba a day off.
5-
Alfredo Aceves
- 20 IP. 18 hits. 4.30 ERA. 1 win. 11 Ks (
As a Starter
)
*same as Phil Coke*
Bullpen-
Dan Giese
- 60 IP. 55 hits. 4.50 ERA. 15 BB. 45 Ks.
Giese was solid in 08 for the Yankees, maybe i inflated his ERA a little high, but he'll still be a solid guy for them.
Phil Coke
- 50 IP. 37 hits. 3.80 ERA. 20 BB. 40 Ks. (
As a Reliever
)
Don't look at the Yankees putting him in any late inning spots, he'll take a long relief/middle relief role.
Edwar Ramirez
- 70 IP. 50 hits. 3.90 ERA. 39 BB. 90 Ks.
Edwar has filthy stuff, he displayed it last year... but he has a tendancy to be very streaky. He'll give you many good innings in a row, then he'll just explode giving up 10 runs... notice the 3.90 ERA. (
He is capable of a 2.50 ERA
)
Jose Veras
- 65 IP. 60 hits. 3.30 ERA. 30 BB. 60 Ks.
Veras has always been a big question mark for me, he has nasty stuff... but is extremely wild around the plate. As long as he keeps the walks down... he can have another respectable year.
Mark Melancon
- 35 IP. 20 hits. 2.40 ERA. 15 BB. 40 Ks.
he won't make the team out of spring training, but i see him getting called up either shortly before, or shortly after the All-Star break. Maybe have a similar role as Joba had in his first season.
Damaso Marte
- 55 IP. 48 hits. 2.70 ERA. 20 BB. 65 Ks.
Marte and Bruney will take turns in the 8th inning as the bridge to Mariano Rivera. He wasn't great with the Yankees early, but he settled in and showed he can handle the AL east.
Brian Bruney
- 45 IP. 35 hits. 3.30 ERA. 25 BB. 43 Ks.
Bruney has great stuff, and him shedding all the whieght showed his dedication to the Yankees. I can see him having a great season, if he keeps the walks down.
Mariano Rivera
- 65 IP. 59 hits. 2.50 ERA. 8 BB. 60 Ks. 44 Saves.
Mariano is Mariano... he'll be solid throughout, maybe hit a few bumps in the road... but nothing ever seems to affect him negatively.