Hey everyone, sorry for the lack of posts lately, i can tell you i've been swamped with work, but i'll try to get posting alot more within the next few days.
Anyway... i thought i would share with everyone a little interesting story... if you'd call it that.
As most of you know... or don't know, i purchased MLB 2k9 March 3rd when it was released, i've been playing it since, i thought it would be a cool idea to simulate the 09 season and see how it turned out, with injuries on.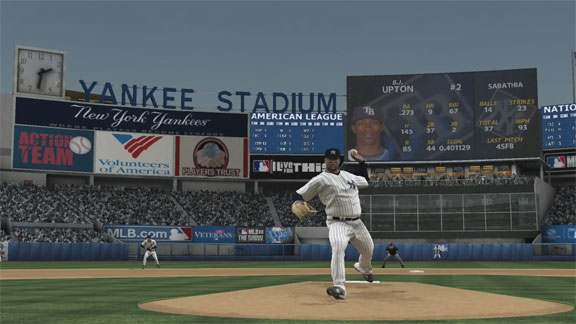 To be fair to the rest of the league, i had Cody Ransom play all of April and switched A-Rod in for May. The season started out slow the Yankees were hovering around 500. for the first 3 weeks. Then they went on a tear winning 8 games in a row... A-Rod joined the team in the midst of this streak.
Joba Chamberlain came down with a shoulder injury in mid June, but was back a few weeks later. C.C. Sabathia started out very poorly, but settled down in mid April and began to dominate. A.J. was amazing basically for the entire season, no injuries, no blowout losses, he finished with a line of 19-6 and an ERA of 2.87, pitching 226 innings.
CC's numbers by the end of the season were not as great as you'd want, he was 16-10 with a 3.85 ERA. Wang was solid going 17-5 with a 3.63 ERA and Joba went 13-3 with a 2.46 ERA. I had Phil Hughes start while Joba was out, he was solid, he won 3 out of his 4 starts in that time period.
Mark Teixeira started out really well, he had 13 homeruns in April, but then slowed down hitting only 3 in May. Robinson Cano was O.K, his final line was 313. with 15 HR and 75 RBI, i had him projected for higher, but this is just a video game. A-Rod despite missing all of April had 33 HR and 113 RBIs.
The Yankees made it to the playoffs with a final record of 97-65 winning their division. They beat the Twins in the first round 3-1, then the Rays in the second round 4-3.
They then played the Cubs in the world series... sweeping them in 4 games. Well, i thought that was pretty cool, so i simulated another season, just for fun without following the stats or injuries... the Yankees made it to the world series again playing the Cubs, beating them again, except this time 4 games to 3.
I'm not one to be jumping to conclusions, but that outcome sounds just fine to me. A.J Burnett also won the Cy Young, which i found interesting, hopefully this all comes true.
If you're curious as to how Andy Pettitte faired... not so great...
Here's a clip from Role Models... which is a hilarious movie... watch it...